Thomas Reid's Blog
To avoid delays in closing, below are the most common items noted for consideration; any repair listed in an appraisal must be completed prior to closing.
The roof has to have a remaining life of at least 2 years; if it is worn or leaking, a roof inspection will be required No structural deficiencies can be noted in the foundation, floor support or framing; if noted, a report from a qualified engineer will be required. Attic, basement and crawl spaces must be accessible and adequately vented. Mechanical systems (plumbing, electrical and heat) must be operational at the time of the inspection; they must be sufficient for the dwelling and meet codes. All rooms need an adequate heat source. Heating system must be permanently affixed and fired by gas, oil, electric or propane. Wood can only be used as a back up source of heat. Lead based paint hazard: (Homes built prior to 1978) All defective paint surfaces, both interior and exterior, including garage, outbuildings etc. must be repainted. Any rotted exterior wood surfaces must be replaced. Well and septic systems must meet criteria set by local municipality were applicable, or meet terms of the contract where specified. Both must be included on the sketch of the property to meet appropriate distance. All other repairs that are "essential to the health and safety of the occupants" must be completed. There must be electrical outlet(s) in each room Sump-pumps must discharge as per appropriate town code. Handrails must be in place in all stairwells or steps on the interior or exterior where required for safety purposes. All insect infestations must be addressed by a qualified contractor Any broken or missing fixtures/windows must be repaired or replaced All gutters and downspouts must be functional and typical for the area.
These are the most typical items requiring attention and or repair.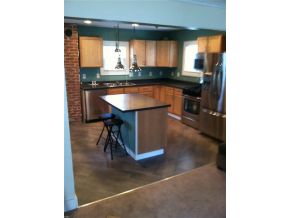 For Sale - 706 Maple St, Endicott, NY 13760 - $64,900
Stylish and affordable in Endicott, NY. This totally renovated home is ready for you to move in and enjoy. New kitchen with beautiful flooring and cabinetry. New carpeting, freshly painted interior and exterior. New roof, new windows, and new supply and drainage waste vent system. New 200 amp electric service, a new furnace and a new hot water heater. Nothing to do but move in.
Call me today to view this beautiful home in a great neighborhood... 607-699-1013
The Village of Endicott is in the Town of Union and is west of Binghamton, New York. The town is served by the Greater Binghamton Airport/Edwin A Link Field. It is part of the "Triple Cities", along with Binghamton and Johnson City.
The Village of Endicott was originally made up of two distinct villages: "Union Village" (now the historic business district at the intersections of NYS Route 26and NYS Route 17C), incorporated in 1892, and Endicott (whose center was along Washington Ave. and North St.), which was incorporated in 1906. Union was a market town along the Susquehanna River settled in the 1790s, serving the farming area between Binghamton and Owego. Endicott and Union were merged into a single village in 1921, as the two villages had grown so much that there was no distinction between them.
The Endicott Johnson Corporation (EJ) grew out of the Lester Brothers Boot and Shoe Company which began in Binghamton in 1854. In 1890, the Lester Brothers moved their business west to a nearby rural area, which in 1892 was incorporated as the Village of Lestershire and in 1916 became Johnson City. Financial problems in 1890 forced the sale of the company to a creditor and fellow shoemaker, Brahmin Henry Bradford Endicott of Massachusetts, who founded the Endicott Shoe Company and in 1899 made factory foreman George F.
Residential Real Estate for Sale in Binghamton NY at 16 Fenton Ave
Beautifully landscaped yard w/ mature perennial gardens and large magnolia tree. Large living spaces w/ exposed natural woodwork. Hardwood floors under the carpet,per the owner. Refinished bathroom, and a spotless kitchen. Large covered front porch. Large double detached garage.
Thomas Reid
Real Estate Consultant
607-699-1013 Cell
607-729-5500 Office
http://www.tommyreidrealestate.com
EXIT Realty Homeward Bound
1500 Vestal Parkway East
Vestal, NY 13850
607-729-5500
607-797-6427 Fax
Each office independently owned and operated
16 Fenton Ave
Binghamton, NY 13901
$93,000
3 Bedrooms
1 Full 1 Half Bathrooms
0.17 Acres



Scan with your Smartphone for mobile listing


Post created on February 9, 2012 at 2:26 pm with PureAgent eFlyers from Onjax
Trying to sell your home ?
Time to make your listing stand out from the rest and get the most exposure possible.
Older Posts